International Journal of Urology
The Official Journal of the Japanese Urological Association
The Official Journal of the Urological Association of Asia
Edited by: Nobuo Shinohara
Print ISSN: 0919-8172
Online ISSN: 1442-2042
Frequency: Monthly
Impact Factor: 2.445
ISI Journal Citation Reports Ranking: 2019 : 36/85 (Urology & Nephrology)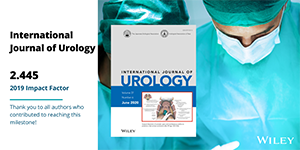 International Journal of Urology, official publication of Japanese Urological Association, aims to publish high quality research ranging from experimental studies conducted in the laboratory to applied studies aimed at clinicians. The journal publishes original articles of clinical and experimental investigation, Reviews, Guidelines, and Procedures. Submissions are welcome from researchers worldwide. All manuscripts are subject to peer review and are judged on the basis of their contribution of original data and ideas or interpretation. Author benefits include Online Early articles available online prior to print publication, and no charge for publication of color figures. Manuscripts can be submitted via ScholarOne Manuscripts.
Contact

Editorial Office


International Journal of Urology


c/o Wiley Blackwell
Frontier Koishikawa Bldg. 4F,
1-28-1 Koishikawa, Bunkyo-ku,
Tokyo 112-0002
Japan
Email: IJUEO@wiley.com
TEL: +81-3-3830-1267
FAX: +81-3-5689-7278
IJU Case Reports
The Official Journal of the Japanese Urological Association
The Official Journal of the Urological Association of Asia
Edited by: Nobuo Shinohara
Online ISSN: 2577-171X
Frequency: Bi-Monthly
IJU Case Reports is an open access, peer-reviewed online journal that will consider new observations of diseases, clinical findings or novel/unique treatment outcomes relevant to practitioners in urology.
As healthcare professionals, authors, and publishers ourselves, the IJU Case Reports editor believe in the value of case reports and we know how hard they can be to write and publish.
IJU Case Reports takes only cases of exceptional interest and novelty are considered. All clinical cases should be reported in a way that provide evidence that adequate steps have been taken to minimize harm, to avoid coercion or exploitation, to protect confidentiality, to minimize the risk of physical and psychological damage, and to respect autonomy.
Authors should kindly note that submission implies that the content has not been published or submitted for publication elsewhere except as a brief abstract in the proceedings of a scientific meeting or symposium.
Contact

Editorial Office:

IJU Case Reports


c/o Wiley
Koishikawa Sakura Bldg. 4F, 1-28-1 Koishikawa, Bunkyo-ku,
Tokyo 112-0002 Japan
Email: ijucaseeo@wiley.com
TEL: +81-3-3830-1237